Friday, March 24th, 2023 - Eddie's Attic (SOLO) (website)
515 N. McDonough Street
Decatur, GA 30030 (map)
(404) 377-4976

Webb will appear solo. 7pm start time. Tickets are available by visiting this page.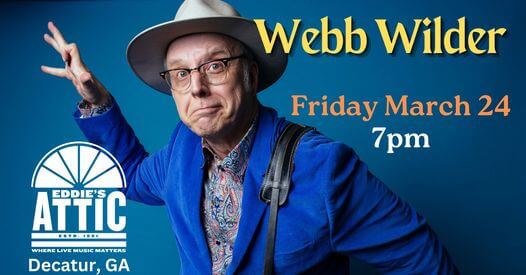 ---

Thursday, April 20th, 2023 - Thacker Mountain Radio (SOLO) (website)
413 S. 14th Street
Oxford, MS 38655 (map)

Webb will perform solo. Start time is slated for 6pm.

The Thacker Mountain Radio Hour is a weekly live radio show featuring author readings and musical performances from the square in Oxford, MS. You can listen online at WUMS Rebel Radio's website.


---

Friday, April 21st, 2023 - MAXLive (SOLO) (website)
Mississippi's Arts + Entertainment Experience
2000 Front Street, Suite A
Meridian, MS 39301 (map)

Another Mississippi solo WW appearance! Things get rollin' at 7:30pm.

We don't have a link for ticketing yet, but you can watch this space. When we have one, we'll post it here. You might also check MAXLive's website.


---

Saturday, June 17th, 2023 - Down Home (website)
300 W. Main Street
Johnson City, TN 37604 (map)
(423) 929-9822

Webb and the Beatnecks are comin' back to the cleanest nightclub in America. 8pm start time.

Event information and ticketing are available at this page.


---

Saturday, July 15th, 2023 - Yonder Community Market (SOLO) (website)
151 Hillcrest Avenue
Franklin, NC 28734 (map)
(828) 200-2169

Webb will perform solo, starting at 7pm. This will be a free show, with donations encouraged. Bring your chairs and enjoy some top shelf music under the stars!


---

Saturday, October 14th, 2023 - Fitzgerald's Night Club (website)
6615 Roosevelt Road
Berwyn, IL 60402 (map)
(708) 788-2118

Webb and the Beatnecks will once again visit scenic and historic Berwyn. If you don't know where that is, think "Greater Chicagoland," 'cause it's nestled right in there. An 8:30pm start time is planned, and tickets will go on sale July 11th. C'mon down and join in!