Webb's Biography
Night Without Love
Release Date April 10th, 2020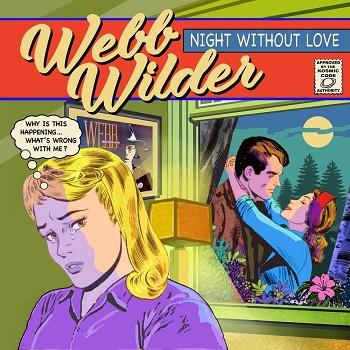 On Night Without Love, Mississippi Musician Hall of Fame icon Webb Wilder pleases and shocks, soothes and rocks, and meets every un-expectation. Equally versed in two glorious worlds, Rock and Roll - with a strong side of Outlaw Country (Webb prefers the term "PROGRESSIVE Country"). He is a force on tour, and a tour de force. He is the Last of the Full Grown Men, as well as Roots Rock Royalty.
Night Without Love is Wilder's eleventh album, and it was recorded at George Bradfute's Tone Chapparal studio near Nashville. Alongside Webb are a crew of like-minded friends, including genius guitarist Richard Bennett (Emmylou Harris, Mark Knopfler), spectacular harmony vocalist Rick Schell, and Bradfute, whose multi-instrumental wizardry adds layers to the aural proceedings. Legendary artist Flournoy Holmes created the album's cover art. Fans may know of Holmes' other well-known work, such as the cover of The Allman Brothers Band's Eat a Peach, or the engaging designs wrapping Webb's own Doo Dad outing.
Webb has been an early adopter of using all manner of media to make an impression. He was one of America's first satellite DJs, as a leading personality on XM Radio's XM-12 "X-Country" (Cross Country) channel. He starred in cult movie classics featuring the character of "Webb Wilder, Private Eye," co-created by his old pal R.S. Field. All those years ago, Field (a man of vision to be sure) was key in helping a young John Webb McMurry transform into "Electrifying Artist, Webb Wilder."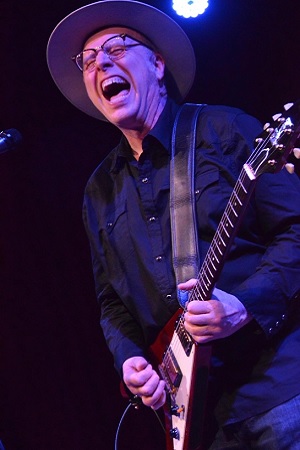 Beginning with 1986's classic debut It Came From Nashville, Wilder emerged as a barnstorming hero who delivered a peculiar mix of Rockabilly, poetry, and tomfoolery. These days, some folks call Wilder's music Americana, though it is as impacted by mods and British Invaders (of the guitar-wielding kind) as it is by the Country music he's heard all his life. It's also influenced by the Blues and R&B sounds recorded by his Aunt Lillian, who founded Trumpet Records and recorded Elmore James and Sonny Boy Williamson. To throw more genres in the mix, Paste Magazine put It Came From Nashville on their list of the "50 Best Southern Rock Albums of All Time."
The album opens with "Tell Me What's Wrong," originally recorded by an English pub band, The Inmates. It moves through an eclectic mix of songs penned by Field, Russell Smith (of the Amazing Rhythm Aces), Chip Taylor ("Holdin' On To Myself," initially recorded by country artist Stoney Edwards), David Hidalgo and Louis Perez of Los Lobos ("Be Still"), and Tommy Tucker.
Wilder wrote the evocative "Illusion of You" with help from cohort Joe McMahan, and the twangtastic "Buried Our Love" with Field and Suzy Elkins, bandmates from his 1980s Mississippi days with The Drapes. For "Ache & Flake (Go With the Flow)," he partnered with bass maestro Tom Comet. "Sweetheart Deal" came from a Valentine's Day writing session with the great Dan Penn of "The Dark End of the Street" and "Do Right Woman, Do Right Man" fame.
"I spoke to Dan about getting together, and he said, 'Call me on Valentine's Day,'" Wilder says. "I agreed to, telling him beforehand that we would make it 'a sweetheart deal.'"
Night Without Love's other "deal" song came from sadder circumstances, after an overwhelming day of attending and singing at a dear friend's funeral back in Hattiesburg.
"The big deal of it all has brought me to my knees," Wilder sings, in the most emotional vocal of his career, as Bradfute's strings bring elegance to the hurting. After that, Wilder is back to rocking, with the album-closing cover of Tommy Tucker's "High Heeled Sneakers." It's a yin-to-yang turn from a man who has known nights without love, who has heard the drums that pound in the night, and has emerged wiser, but no less determined to amp-up and holler.
---
"Webb flat out rocks! They serve up potent Southern Comfort."
-- Rolling Stone Magazine
"With his obvious love of British rock and Southern roadhouse, Wilder could be a kind of Tom Petty for the trailer set."
-- San Francisco Chronicle
"These days the term 'roots rocker' is almost meaningless, but Wilder's blend of a rocker's heart with a hillbilly's soul is probably the best aural definition of it yet."
-- Time Out Chicago
Discover the mystery, the madness, and the magic of the man called Wilder. A giant standing proudly above lesser talents.
-- That Devil Music